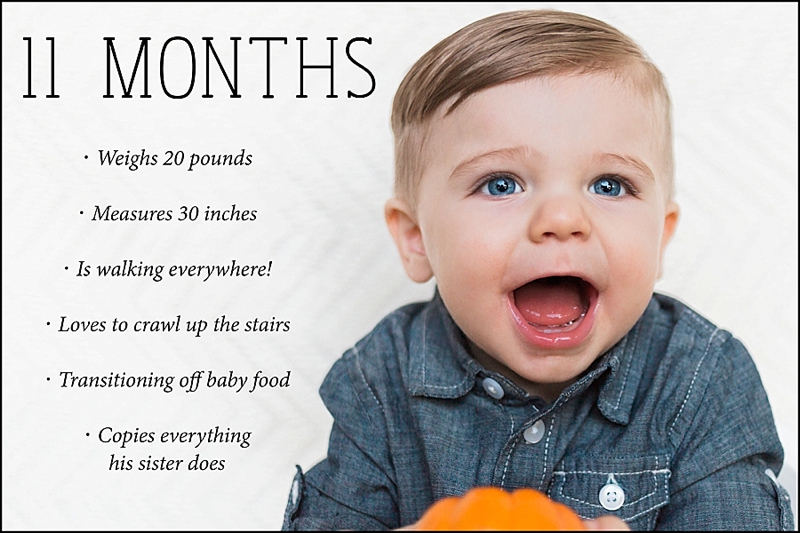 PINIMAGE
This handsome guy is 11 months old! Only one more month and he'll be a year old, which just seems crazy! Jude also seems so much older to me than he actually is. I think it's because he's already walking and getting into everything his sister gets into. He's been in such a hurry to keep up with her, and his new-found skill of walking has really helped him do just that. I think he really loves being able to toddle around after her, instead of just crawling. I'm not sure if we were exactly ready for it, but watching his tiny little body walk around is one of the cutest things I've ever seen!
This past month we've worked on transitioning him off of baby food to real food as much as possible. He'll still eat some pouches and jars of baby food when I just don't have time to make him a meal (or I'm too lazy), but for the most part he's now eating what we eat. I love it because in some ways it seems like he's more a part of the family, especially at meal times! And Emery really likes it too. I love watching them sitting next to each other, in matching high chairs, matching bibs, eating the same food. Sometimes I think I'm raising twins! And then I think, "How do moms of actual twins do this?!" ha!
Jude's newest trick is learning how to go down the stairs on his own. He's known how to crawl up stairs for a long time now but we're working on learning how to go down. I can't wait until we can get rid of the baby gates and let him have free range! I know Emery is getting sick of the gates too. She hates being trapped in one room, and I don't blame her! She's used to having free range and being able to go from the family room to up in her playroom or up in her bedroom to play. It annoys both of us that she has to ask to be let out of a room. We just need Jude to get a little more confident at going down and then we'll be in the clear!
Jude's proven to be a little more high maintenance than Emery was, but he's still such a happy (and cute!) baby that life with him is just SO enjoyable! He's definitely a "momma's boy", which to be perfectly honest, isn't my favorite, but I'm hoping as he gets older he'll grow out of that. He loves having Emery around and the times that he is by himself are pretty lonely for him. He lights up when she's with him and they really do play together very well. On the mornings that she goes to preschool before he wakes up, I'll go to get him up for the day and the first thing he does is walk over to her bedroom door and just wait for me to open it. I know he misses her when she's gone!
The past year has flown by and has been the best year for our family yet. Jude has brought so much joy to our home and I'm just in love with him! I thought being a mom to one kid was great, but having two now and being able to watch them interact and play is honestly the best feeling! Can't wait to see what changes this next month will bring!
And I'll end with some more photos from our photo shoot, as well as a side-by-side of Jude & Monster, both at 11 months: