Little Jude is getting so big! This last month he's put on a few pounds and has become even more mobile. He's now into everything–pulling himself up on anything he can find, opening drawers, climbing stairs, and following his big sister's constant, "Come 'ere, Jude!" calls.
His hair is growing so fast, I think he honestly will need a haircut soon. Which puts him ahead of Emery by about…two years? Ha ha, Emery is still struggling in the hair department while Jude has more than enough!
Jude has also been learning sign language this last month. We started with Emery at 6 months but she didn't really pick it up until right before a year, so I wanted to wait longer before I started with Jude. But he's getting to be at the screamy stage where when he wants something he makes a high-pitched squeal/scream, which I can't stand, so that's when I know it's time for sign language! So far so good. He definitely knows what the signs mean already, especially "more", but he hasn't picked it up enough yet to sign back. That's to be expected though–I know it will take a few months.
Since he's started to climb the stairs, I've also begun teaching him how to go down the stairs. Emery picked it up quickly so I'm hoping Jude will too! With Emery, we could just put up baby gates but with Jude it's a different story since his kind older sister just pushes them down for him so he can get to where he wants to. She doesn't quite understand that it's dangerous for him, she is always just trying to help! Ha ha!
What else is new? He still sleeps great at night–usually from about 7:30 or 8:00pm until 9:00 or 9:30am. Then he takes two long naps during the day. We used to put him mostly to sleep in our arms first before laying him down and then he'd wake up a little bit, but go back to sleep on his own. Now he doesn't want to be in our arms more than just a minute or two so I've started putting him down and just letting him go to sleep on his own. So much easier this way!
I'm thinking he might be walking pretty soon, or at least before Emery was (she walked at 13 months). He's in such a hurry to keep up with Monster and I have to say, so far he's doing a good job! She's sweet to him too and will crawl around with him when they play together. That or she dangles a toy about 5 feet from him, yelling, "Come 'here, Jude!!" and as he gets closer she just keeps backing up. They will literally run/crawl all around the house doing this.
He's still so sweet and is the happiest when Emery is around running around and giving him constant entertainment. He only gets sad during the times of day when she might still be sleeping and he's already woken up. But that's short lived when he realized he can play with a toy that is normally taken away from him immediately! Seriously though, they really do play together very well and I love watching them interact. Just today Emery looked at Jude and said, "Jude..you my friend? You my best friend Jude!" and it kind of made my mom-heart melt into a puddle.
Here's some more photos of our 9-month old!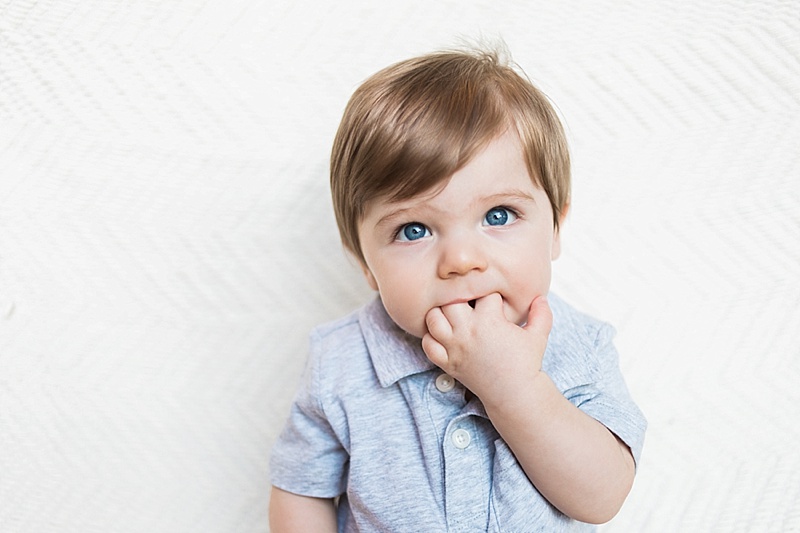 PINIMAGE

PINIMAGE


PINIMAGE
And a comparison of Jude & Emery, both at 9-months old: